---
Are you looking to get the most for your Rolex? Did you inherit a Rolex and you're looking to sell but aren't sure if it's authentic?
If you're looking to purchase an authenticated second hand Rolex, click here:
---

How To Find Your Rolex Serial Number & The Year
The information on most older Rolex Watches is engraved between the lugs on the watch body.
That is, the bracelet/wrist strap needs to be removed in order to see it.
The serial number is at the 6 o'clock position and the reference number/model number is at 12 o'clock.
Note that in our chart below, it says "random" number indicate late 2010's to present day. Rolex began to use randomized number IDs (8 digits and numbers) for each watch, making it impossible to assume an approximate age for the item like it is possible with the serial numbers of older and vintage watches.
The newer models feature this "random" serial number on the "rehaut" or "flange" area at the 6 o'clock mark (the metal "wall" under the crystal and above the face). The model numbers are still between the lugs at the 12 o'clock mark.
A photo from Bobswatches.com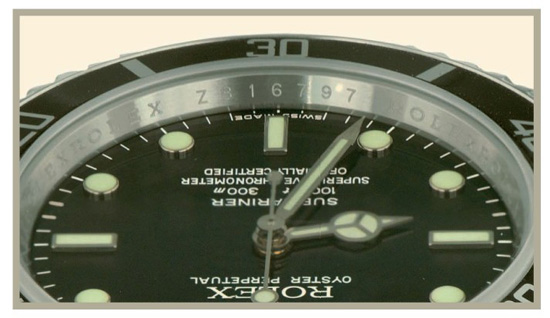 You can also watch this video about finding the Rolex Serial Number and Model Number.
Do I need to know my Rolex serial number to sell my Rolex?
Knowing the Serial Number of your Rolex is important for many reasons.
Insurance companies may request the serial number if you try to insure your watch, it's the only way to distinguish your watch from many others.
If your watch is lost or stolen, the police department will require your serial number for the police report, otherwise they cannot return the watch to you.
If you don't have any paperwork and aren't sure what year or model your watch is, knowing the serial number can help a potential buyer authenticate the item, and get your more money in the end!
If you don't have any information and you're looking to sell, go to a trusted expert!
---
How do I sell my Rolex?
First of all, gather any accessories you might have, any certificates, paperwork, booklets, boxes, receipts you might have. Every little bit counts.
You can also google your watch to find a similar model online and that way you can tell a buyer which make and model you have.
If you're not sure of the authenticity, you can always go to a certified Rolex dealer or repair shop and ask for their opinion. If you'd like to get a little more value on your sale, you can have the item repaired or serviced by taking it to a certified Rolex establishment. Certified Rolex Dealers and repair shops will not work on your watch if it's counterfeit.
Or you can just ask the experts!
Ready to find out what your Rolex is worth? Call us to schedule today!
---
How do I ensure I'm buying an authentic Used Rolex? Where can I buy authentic second hand Rolex watches?
Only buy secondhand from a jeweler you trust!
Here's a few of our Rolex's for sale – Authenticity Guaranteed!
Save
Save
---
Why do some companies online blur out the serial numbers on watches?
In many photos of paperwork or even of between the lugs on a used Rolex, companies will blur out, hide or cover, or etch out the middle few numbers in the photo.
This is an unspoken rule among watch sellers – blocking the entire serial number keeps illegal replica watches from being made with real serial numbers. There are many Rolex replicas being made and the less information available to the counterfeit makers, the safer the second hand market is for consumers.
Rolex serial numbers by year of manufacture
SERIAL
YEAR
1920's
20000
________________
1927
22500
________________
1928
25000
________________
1929
1930's
26500
________________
1930
28000
________________
1931
28500
________________
1932
29000
________________
1933
32000
________________
1934
35000
________________
1935
37000
________________
1936
40000
________________
1937
55000
________________
1938
71000
________________
1939
1940's
90000
________________
1940
106000
________________
1941
150000
________________
1942
230000
________________
1943
270000
________________
1944
302000
________________
1945
400000
________________
1946
529000
________________
1947
570000
________________
1948
600000
________________
1949
1950's
650000
________________
1950
700000
________________
1951
800000
________________
1952
900000
________________
1953
10000 to 300000
________________
1953 to
1957
350000
________________
1958
400000
________________
1959
1960's
550000
________________
1960
700000
________________
1961
800000
________________
1962
900000
________________
1963
1000000
________________
1964
1200000
________________
1965
1400000
________________
1966
1600000
________________
1967
1850000
________________
1968
2300000
________________
1969
1970's
2500000
________________
1970
2900000
________________
1971
3300000
________________
1972
3750000
________________
1973
3900000
________________
1974
4250000
________________
1975
4500000
________________
1976
5000000
________________
1977
5400000
________________
1978
5950000
________________
1979
1980's
6400000
________________
1980
7000000
________________
1981
7350000
________________
1982
7750000
________________
1983
8100000
________________
1984
8600000
________________
1985
9000000
________________
1986
9500000
________________
1987
R000001
________________
1987
L000001
________________
1989
1990's
E000001
________________
1990
X000001
________________
1991
N000001
________________
1991
C000001
________________
1992
S000001
________________
1993
W000001
________________
1994
T000001
________________
1996
U000001
________________
1997
A000001
________________
1998
2000's
P000001
________________
2000
K000001
________________
2001
Y000001
________________
2002
F000001
________________
2003
D000001
________________
2005
Z000001
________________
2006
M000001
________________
2007
V000001
________________
2008
G000001
________________
Mid 2010
Random Numbers
________________
Late 2010 to present